If you Google "motion graphics designer jobs", you will find thousands of postings all over the web that offer both full-time in-office positions and short-term contracts for freelancers. There is an overwhelming amount of openings both for junior motion graphics designers and senior motion graphics designers and fresh offers only keep coming.
It is no surprise since a talented motion graphics artist can take your brand image to a whole new level and help increase its memorability and recognizability. As you can probably guess, companies are willing to pay generously for unique high-quality motion design - the average salary of a motion graphics designer in the United States is somewhere around $65k yearly. The actual amount of money you can earn as a motion designer, however, can be far less or far more than that and it depends on several factors.
Average motion graphics designer salary
Salary range for motion designers based on seniority level
When you browse job openings for motion graphics designers, you might notice that the hourly pay starts at about $15 while the yearly salary begins at $30K. And as you scroll further you'll see that some companies are ready to pay as much as $45 per hour or $100K per year. One of the factors that influence your salary is your seniority level as an artist. If you are a junior motion graphics designer or a recent graduate with little to no working experience you might expect to earn the very minimum doing an entry-level motion graphics designer job. If you are already an expert in this area and have an impressive portfolio you will likely earn more than the average $65K per year as a senior motion graphics designer. As any other digital artist would tell you, the more you work, the more you cost.
Salary range for motion designers based on location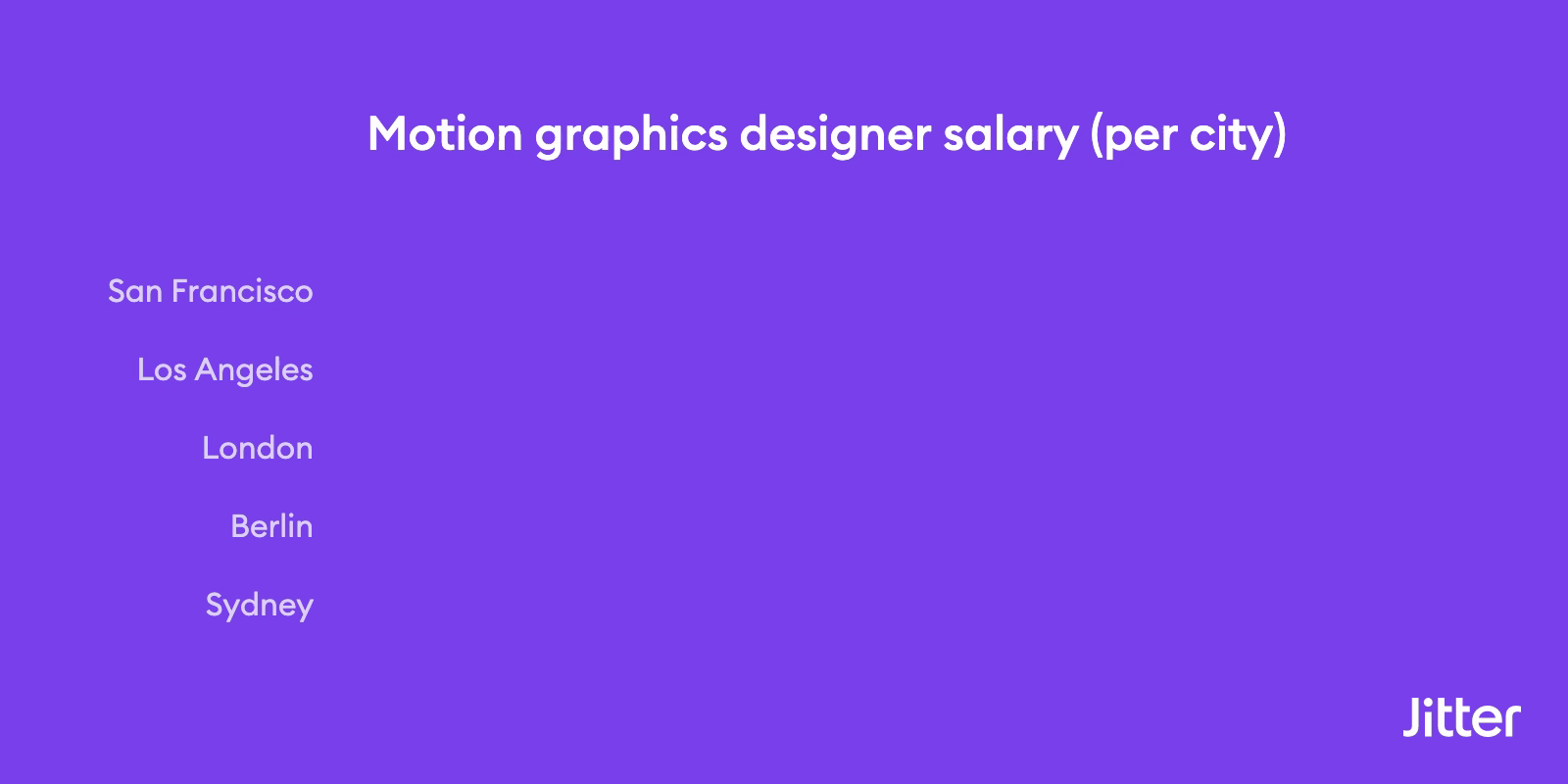 Unfortunately, not every city has a ton of exciting opportunities for motion graphics designers. Some of them have very low demand and consequently lower salaries while the others are drowning in job offers that exceed the number of designers available for work. It doesn't mean that you have to pack and book a one-way ticket to a city with better salaries - many employers are looking for designers who are willing to work remotely. Here are some of the cities you might want to consider when browsing for jobs:
San Francisco
Unsurprisingly, San Francisco, which is home to some of the world's biggest companies including Visa, Uber, and Sephora, is one of the best cities for motion graphics designers. The average yearly salary for a motion graphics designer there is $85K which is $20K higher than the nationwide average. Even considering how expensive living in San Francisco is, this is one of the best places to earn money as a motion graphics designer.
Los Angeles
Another Californian city that has become the capital of the entertainment industry is a great place to look for a job – in Los Angeles, you will definitely find myriads of opportunities as a motion graphics designer. The average yearly salary there is around $65K which is the same as in New York except Los Angeles is slightly cheaper and a lot warmer.
Berlin
If you are currently based in Europe, Berlin would probably be the best choice for you as a motion graphics designer. Berlin is a vibrant, dynamic city and a mecca for all kinds of artists so consider putting it on your job search map. The average yearly salary of a motion graphics designer in Berlin is €41,313 ($46,734) while the cost of living per month is somewhere around €2,300 ($2,600).
Dubai
For those of you who enjoy the challenge of adapting to a completely different cultural setting, United Arab Emirates could be a great choice. UAE is one of the most economically stable places in the Middle East, and its biggest city, Dubai, has already become the tech center of the Arabian Peninsula. The average monthly salary of a motion graphics designer in Dubai is around AED 7,000 (USD 1,900) and you'll have to spend about a half of it on housing.
Sydney
This Australian city is a perfect destination for a digital creator - international IT giants including Google, Apple, and Microsoft have offices in Sydney, plus, it is home to companies like Atlassian and Canva. The average salary of a motion graphics designer in Sydney is somewhere around AUD 64,000 (USD 46,300) per year. This is good even considering how pricey living in Sydney can be – a 1-bedroom apartment will cost you about AUD 2,500 per month.
London
London is a go-to destination for many creatives around the world and as a motion graphics designer, you will find countless awesome opportunities there. Full-time motion graphics artists in London receive £34,996 ($47,079) per year on average but you can also find lots of short-term positions where you get paid around £300 ($404) per day. This is more than enough to cover your monthly expenses which amount to nearly £2,500 (unless, of course, you are planning to rent a flat in Covent Garden).
Salary range for motion designers based on employment type (freelancer vs. full-time employee)
Finally, salaries are very different for freelancers and full-time employees. Generally speaking, freelancers tend to have a higher hourly rate but they don't receive any of the employment benefits and don't have a guaranteed stable income. They, however, are completely free to turn down the gigs they are not particularly interested in and only work on the projects they find exciting.
The average yearly salary of a freelance motion graphics designer in the US is almost $70K according to ZipRecruiter. In fact, even the most ambitious financial goals are achievable because when you're freelancing, you can pick as many projects as you wish and control your workload and deadlines. The biggest challenge of flying solo is being active and making sure you always have commissions to work on. Luckily, in the past couple of years, the number of remote opportunities for freelancers has skyrocketed so you can easily find plenty of incredible offers online.
Is motion graphics a good career?
The demand for motion graphics designers is growing
Possibilities for motion graphics designers are truly endless and they are not limited by the entertainment industry and IT - nearly any company from any professional field might need a good motion graphics artist. From small animations for corporate websites to product demos and brand presentations, the variety of creative tasks motion graphics designers do is enormous. Because customers usually find the things they need via web searches, every business is working on building a solid online presence and this inevitably calls for high-quality motion design.
According to Wyzowl's latest report, the number of businesses that rely on videos as a marketing tool has increased from 61% to 86% since 2016. And this is not likely to decrease anytime soon - if you browse jobs for motion graphics designers on websites like Indeed or Glassdoor, you will find over a thousand offers in the US alone. On Upwork, you will see more than 500 open projects for freelance motion graphics designers.
What about graphic designers?
Graphic designers are without a doubt in demand, too. However, their average salary is considerably smaller than that of motion graphic designers as it is about $50K per year in the USA. This trend can be clearly seen in other countries as well - in the UK, graphic designers earn around £25,000 on average (while motion graphics designers normally make £31,000 per year), and in Germany, their annual salary is about €34,000 (compared to €38,000 for motion graphics designers). Learning animation allows you to broaden your set of potential jobs and aim for a better salary.
How do I get started as a motion graphics designer?
The best thing about any creative job is that you don't need to graduate from an art school or hold a Ph.D. degree in Fine Arts to start working in this field. What makes you valuable as an artist is your portfolio so work on growing it as much as you can. Ideally, it has to be a selection of your best pieces that includes both a few personal projects and some of the commissions you did for your customers. And it doesn't matter if your first customers are family friends or former classmates - as long as it's a finished project that looks decent, it deserves to be added to your portfolio.
What skills do I need to become a motion graphics designer?
First of all, a set of strong artistic abilities is a must-have for any digital designer. The industry is developing faster than ever before and the list of demands only keeps growing. It includes proficiency in numerous 2D and 3D art applications as well as some general creative skills. Those usually are:
Graphic design
Storytelling
2D animation
3D modelling and 3D animation
Adobe After Effects
Cinema 4D
Video editing
No need to master all of these to get started though. If you are familiar with one or two of these, you're in a good position to become a talented motion designer. You will be able to learn the other skills along the way as you practice and gain experience. You can also start from examples from other fellow designers to learn the best practices, like the templates in the Jitter Template gallery.
Creative tools to land your first junior motion graphics designer jobs
The good news is, there are numerous online sources for junior motion graphics designers where you can learn animation and make your first steps towards landing an entry-level job in the area of motion design. Check out Jitter – an easy-to-use, beginner-friendly tool for motion designers. Whether you are planning to use animations for social media posts, for product demonstration, or for your interface design, Jitter can help you make your visual content stand out.
Need to make an animation with the company logo? We got you! Looking to make your Instagram stories more appealing? Jitter's got plenty of story templates to choose from. Want to use animated texts in your product presentation? Take a look at our text animation tools. You can customize the designs and tweak the settings to achieve the desired result and then export your creation as a GIF or a video. Once you get more familiar with motion, you can create your designs and animations from scratch, and customize everything. And the best thing is that can try all of this for free, in your browser. What are you waiting for?
FAQ
How much do motion graphic designers make?
It depends on several factors like seniority level, location, and whether you are a freelancer or employed. The average motion designer salary in the US is around $65k yearly.
Is motion graphics a good career?
Totally! The demand for video has never been higher, and you can see motion design in almost every video around you. This is a future-proof career, and you get to work on creative projects.
Are motion graphic designers in demand?
The demand for motion design is growing, and it will not stop anytime soon: you can see more and more video content everywhere, and almost all of them contain some motion. As a result, motion design is the most critical skill designers want to learn to stay relevant in their field (according to a Dribbble survey).
Do graphic designers get paid well?
Graphic designers are in demand too, but their salaries tend to be significantly lower than the salaries of motion graphics designers. For instance in the US, the average salary for a graphic designer is $50k per year, while it jumps to $65k for a motion graphics designer.